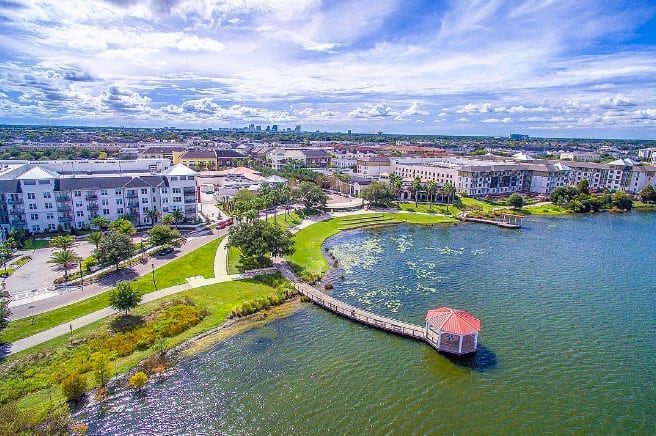 Baldwin Park
What Issa Homes learned about Traditional Neighborhood Development in Celebration, the firm brought to Baldwin Park's residential builds and commercial 'Neighborhood Office.' From its origins as a fully fenced-off 1,100-acre Naval Training Center two miles from downtown Orlando, Baldwin Park has been transformed into a beautiful, walkable neighborhood built around a bustling town center. Historically correct, authentic residential architecture alongside intentionally designed community spaces and commercial buildings allows the natural beauty of the Florida landscape to take center stage.
The 214 Issa Homes single-family homes and townhomes in Baldwin Park span Classical, Colonial, Victorian, Mediterranean and Coastal styles in architectural styles. Shops, restaurants, and office space are within easy walking distance of this exclusive Orlando neighborhood's homes, making it a haven for the environmentally conscious and health and wellness-focused alike.
The Home Builders Association of Metro Orlando recognized Issa Homes' exceptional design and craftsmanship by awarding our firm First Place for our Biltmore Model 28′ Town Home in Baldwin Park in 2004. Issa Homes also won the association's First Place award for the Ashton Model.
Ranging from $400,000 to $1 million when built from 2003 to 2009, Issa Homes in Baldwin Park are now available at current market rates through local realtors as they become available for resale.
Victoria Park
From 2002 to 2006, Issa Homes contributed to urban planners' vision of Victoria Park as a warm, comfortable master-planned community with 76 semi-custom single-family homes. In Victoria Park, diverse neighborhoods give way to lush parks, pristine lakes, and sprawling natural conservation areas in this pedestrian and cyclist-friendly section of DeLand. Located just 30 minutes from Orlando, it's a refreshing escape from the city yet provides easy access to Daytona Beach, New Smyrna, Walt Disney World®, and other popular area attractions.
Issa Homes in Victoria Park include the Auburn Model, winner of the Grand Award in Volusia Home Builders Association. The association also honored Issa Homes with its 2002 Grand Award for the Brighton Model and its 2006 Award of Excellence for the Brandeis Model.
Built new, Issa Homes in Victoria Park ranged from $400,000 to just under $1 million. Today, these exclusive homes are available at market rates from local realtors (when available).
Abacoa
The Traditional Neighborhood Development of Abacoa in Jupiter, Florida was a mere glint in the eyes of master developer Nader Salour of the Abacoa Development Company when construction began in 1997. Salour and his contemporaries envisioned sprawling, open spaces with one underlying theme: connectivity. Now home to over 20 residential neighborhoods, 20 commercial districts, and two college campuses, the land was once owned by insurance tycoon and Palm Beach Gardens founder John D. MacArthur.
From 1998 to 2002, Issa Homes helped bring this vision to fruition with 33 Mediterranean-style luxury residences semi-custom built for discerning Abacoa homebuyers. Ranging from $500,000 to just over $1 million, Issa Homes in Abacoa were designed to complement the community's tree-lined streets, greenways, and multi-functional open spaces. They serve as safe, luxurious havens from which to enjoy all that the Abacoa area has to offer, from its baseball stadium and lively town center to its nature preserves, recreation sites, and public golf course.
Weston
The master-planned suburban community of Weston, the westernmost city in Broward County, is a principal city of the South Florida metropolitan area. Its 65,000 residents enjoy close proximity to the Everglades, a higher than average family income, and ample employment opportunities. In 2012, it was ranked one of the Top 100 Places to Live in America by Money magazine and in 2015, was recognized as one of the 10 Best Towns for Families by Family Circle.
Weston wasn't always an independent urban entity, though. In fact, when Issa Homes was invited to Weston's select builder program in the 1980s, this was one of Florida's most successful communities—and it was owned by Walt Disney World®. Miami Dolphins fans will remember Weston as the home of NFL Hall of Famer and Miami Dolphins superstar quarterback Dan Marino, as well as NFL football great Bernie Kosar and previous owner of a custom Issa home.
From 1986 to 1999, Issa Homes built 630 single-family luxury homes in Weston, ranging from $350,000 to over $1.5 million in value. The Gold Coast Builders Association awarded Issa Homes its Gold Prism Award in the 'Single Family Detached' category for our Hatteras Model in 1993. Today, Issa Homes in Weston are available through local realtors as they become available.
West Boca
The exclusive community of Boca West Country Club offers sophisticated residential living in resort-like surroundings, less than 10 minutes from downtown Boca Raton. One of the largest private equity-owned clubs in the US, West Boca is home to nearly 6,000 residents (including 3,500 families) who enjoy spectacular amenities including four championship golf courses.
Issa Homes' 134 luxury residences offer residents spacious, luxurious retreats from which to enjoy the community's over 1,400 acres of lush tropical landscape. The Boca West Country Club provides endless entertainment and fitness with 30 tennis courts, eight pickleball courts, a European-style spa, an aquatics and fitness center, and a jam-packed social calendar. Residents can escape the pressure and frenetic pace of everyday life in a wide range of residences, from detached single-family homes to villas, garden apartments, and townhomes.
Issa Homes in Boca West offer unrivaled safety and stability while delivering the luxury and aesthetic superiority you've come to expect in our designs. They are available through local realtors as they become available.